When it comes to racing dominance, one name sticks out above the rest: Team Penske. Their rich history dates all the way back to 1968. Since then, they've enjoyed continued success with numerous wins for both the Indy and NASCAR racing circuits. This success can be accredited to their constant willingness to embrace new technologies that give them an edge over the competition. Team Penske signed a partnership with Stratasys in February to further the advancement of additive manufacturing into their racing programs. One area of great interest was adopting FDM composite tooling for the car and pit lane. I had the opportunity to sit down with Andrew Miller, Composite Design Engineer, to discuss Team Penske's vision for the future of additive manufacturing with Stratasys technology.
Andrew, you've used other additive manufacturing technologies in the past, how does Stratasys technology differ?
I am a firm believer in matching the needs with the appropriate solutions and this is no different with additive. Stratasys fills a void we had in our additive manufacturing program, particularly for durable jigs and rapid composite tooling. The technical and customer support provided by Stratasys is first class and embodies one of our strongest technical partnerships within our organization.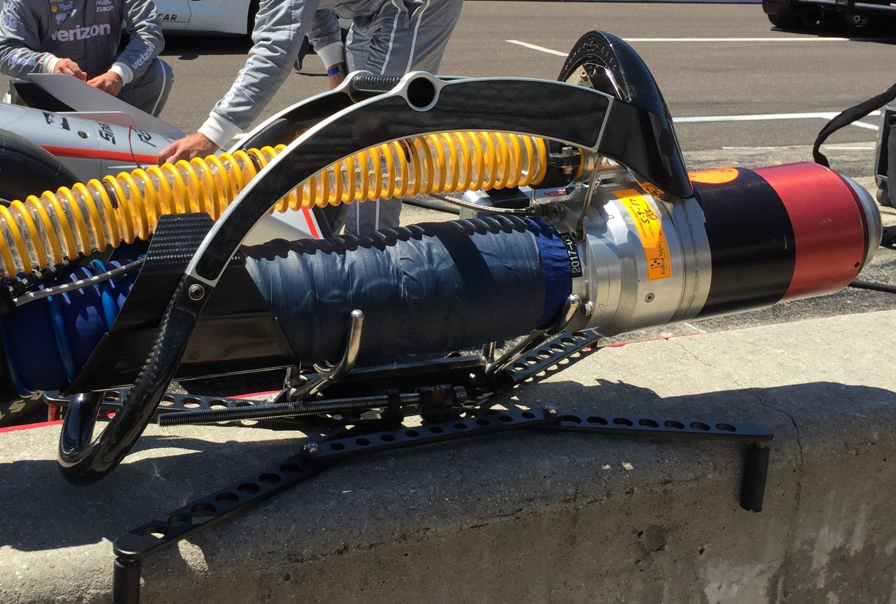 What are some examples where you've use these technologies?
A good example is our Indycar fuel probe housing. This housing posed many manufacturing challenges, but with the use of many Stratasys technologies was a success. We printed master pattern tooling for the composite components using Ultem 1010, we used an ST-130 soluble core for laminating the housing structure, we used Nylon 12 trim and drill jigs for post-processing the parts, and even used Nylon 12 for a connector housing on the probe handle frame.
What are the biggest advantages you've seen so far?
Over the past six months we have significantly reduced our time and cost to get new components to the race track, particularly composite components.
As an engineer, how does additive manufacturing affect your work?
Additive manufacturing allows me to be more creative with my designs, sometimes creating components that could not be produced using more conventional methods. It also enables me to evaluate design concepts much sooner in the design process, increasing first time right design success.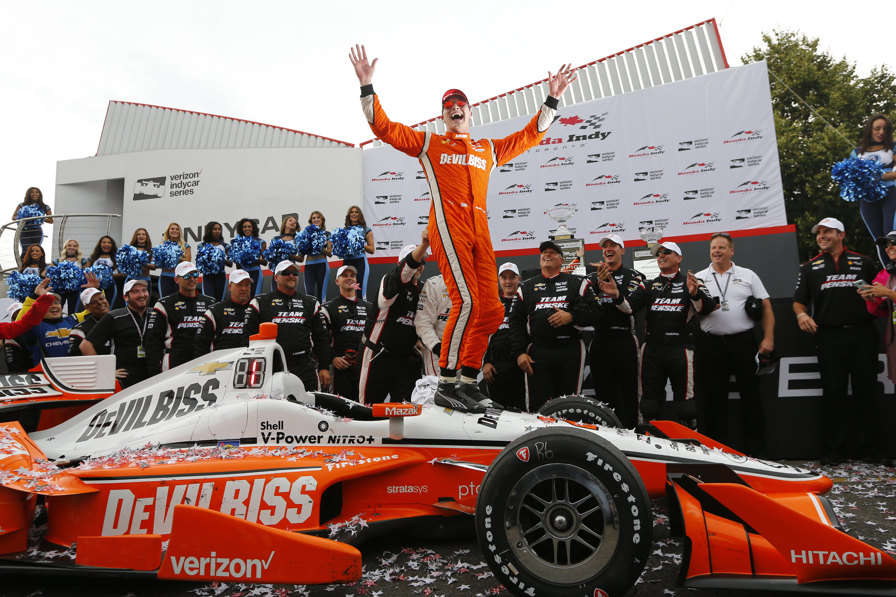 Verizon IndyCar Series
Honda Indy Toronto
Toronto, ON CAN
Sunday 16 July 2017
Josef Newgarden, Team Penske Chevrolet celebrates the win in victory lane
World Copyright: Phillip Abbott
LAT Images
ref: Digital Image _90V1846[/caption]
Have you seen benefits on the track since using Stratasys technology?
Anytime you are able to bring updates to the track quicker you are gaining performance. This is evident with our Indycar team where three out of four of our drivers are in contention for the championship.
How do you envision that additive manufacturing will affect Team Penske?
Additive manufacturing will enable Team Penske to gain competitive advantages on the track through a faster development pace. It will also enable us to build our racecars more quickly while providing the opportunity to focus other resources, i.e. machining, for manufacturing needs that require this specific solution.