Stratasys Ltd. today introduced the Stratasys Origin® One 3D printer, designed for end-use manufacturing applications. The Origin One™ system uses proprietary P3™ technology to produce parts in a wide range of high-performance materials with industry-leading accuracy, repeatability and time to part. Stratasys is expecting to begin taking orders worldwide beginning in May.
Stratasys acquired Origin in December 2020 as a key part of its strategy to lead in polymer 3D printing for manufacturing. The Stratasys Origin One is the first 3D printer resulting from the acquisition. An update to the pre-existing Origin One, it includes a larger usable build envelope plus software and hardware workflow upgrades for ease of serviceability, higher performance, and higher utilization. The software upgrades will be available to the existing installed base via a cloud-delivered update when the Origin One begins shipping, currently planned for the fourth quarter of 2021.
TE Connectivity (NYSE: TEL), a world leader in connectors and sensors, was one of Origin's first customers and owns several machines. TE has collaborated with Origin and Henkel on an aerospace-grade photopolymer that has passed rigorous industry-required environmental tests. Today, TE is producing thousands of parts, including its first-ever 3D-printed aerospace production product, the 369 Series connector holder designed to help connectors inside of airplanes remain mated.
We have been laser-focused on meeting stringent accuracy and repeatability criteria for connectors that require double-digit micron accuracy. Stratasys and Origin have been great partners in helping us achieve these targets and demonstrating the possibilities of using additive manufacturing at the scale of tens of thousands of parts. We believe this helps make TE Connectivity a more agile and cost-effective partner for many of the world's leading OEMs in industries from automotive to aerospace to appliances as we work to build a more connected future.
Internal Stratasys estimates suggest a $3.7 billion additive manufacturing market opportunity by 2025 for the production-oriented polymer applications well-suited for the Origin One 3D printer. This includes production parts and tooling in automotive, aerospace, defense, consumer goods, and medical industries. A dedicated dental version will be introduced later this year.
"We believe our P3 enabled Origin One 3D printers are ideal for addressing a wide range of in-demand production applications on a global scale," says Chris Prucha, vice president of P3 research and development and product management at Stratasys and a co-founder of Origin. "Stratasys has given the Origin team an opportunity to accelerate the roll-out of this amazing technology to truly transform manufacturing across industries from dental to industrial products. In fact, it's happening already, with positive customer feedback and very strong indications of demand."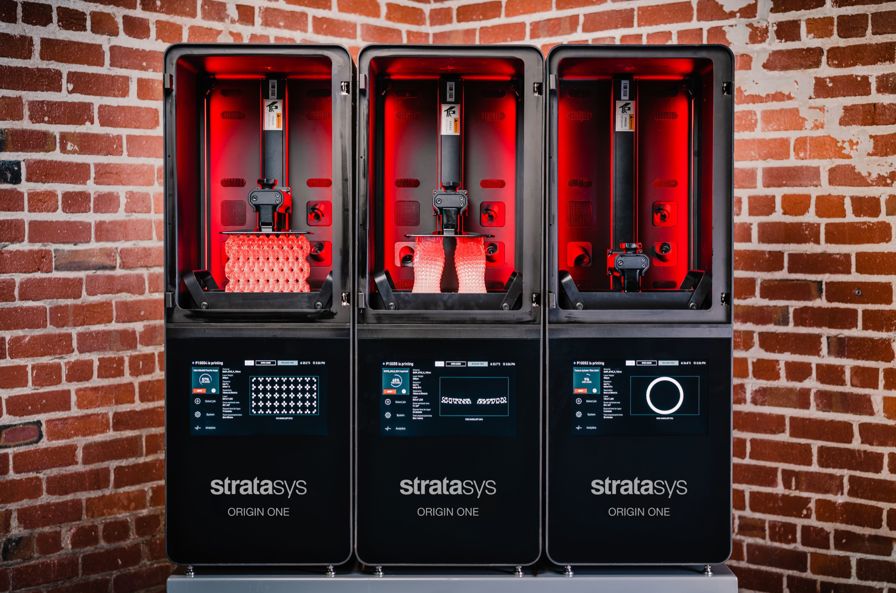 The Stratasys Origin One 3D printer supports part dimensions up to 192 x 108 x 370 mm and can print details less than 50 microns in size. The fully certified third-party materials at launch include 10 industrial resins, including high temperature, tough, elastomer, general purpose, and medical-grade materials. The new system will now be available for purchase rather than a lease model, based on market feedback from Stratasys customers globally.
A live event, with replay available, will be held on Wednesday, April 28, to provide more information, or visit the Origin One product page.
Stratasys, Origin, and P3 are trademarks or registered trademarks of Stratasys Ltd. and/or its affiliates. All other trademarks are the property of their respective owners, and Stratasys assumes no responsibility with regard to the selection, performance, or use of these non-Stratasys products.