After Stratasys® launched the J5 DentaJet in 2021, our Research and Development team immediately started to consider how we could make the process of printing 3D dental models even more efficient for our customers. The J5 DentaJet, Stratasys' smaller footprint, multi-material dental 3D printer has a large tray and efficiently prints using different tray arrangements, but we wanted to give users another way to maximize PolyJet™ technology.
Quick, streamlined production is a critical part of ensuring a dental lab's success, and our customers were looking for a higher-speed mode for the applications that they see a significant number of cases of every day. Based on their feedback, we're introducing a new high-speed mode for the J5 DentaJet that allows users to double print speed.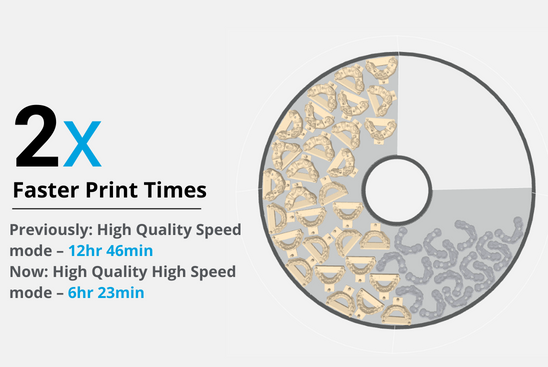 Print dental parts in half the time.
The new J5 DentaJet High Quality High Speed (HQHS) Mode doubles print speed with the same quality and accuracy that Stratasys customers rely on. With HQHS mode, users can print applications like dental models, surgical guides, and frameworks for removable partial dentures in half the time, so dental labs can increase turnaround time and print twice as many parts per tray.
Plus, like the normal J5 DentaJet capabilities, users can still complete unattended and overnight work while using HQHS Mode.
Count on the same accuracy as before.
The J5 DentaJet HQHS mode uses only 2 materials instead of all 5 materials that are normally loaded onto the printer. Users can print all types of dental models, RPD frameworks and surgical guides with the same quality but at half the time.
Available to all J5 DentaJet customers.
The new HQHS mode will be available to all existing and new J5 DentaJet customers via a GrabCAD® Print software update. The update is expected to be available later this year. The new mode will be added to the "High Quality Speed" that is currently available on the printer.
Load one tray and walk away—for just half the time.
Stratasys is excited to continue to serve our customers and patients with powerful tools that are designed to reduce costs and maximize efficiency.
*HQHS = High Quality High Speed Mode
Learn more about our solutions to create more dental parts with less handling.